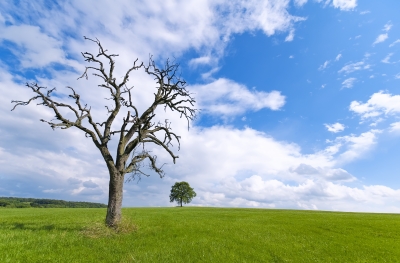 Is there a right way to grieve? I think the simple answer to this question is 'no'. People grieve for the loss of their loved ones in all sorts of different ways and usually find their own path through the untidy mess of feelings that often follows death. However, I do believe that some ways of grieving can prove to be better than others.

In my experience of working with people who have been bereaved, the best outcome seems to come about when:
we are able to accept our feelings about the loss, whatever those feelings might be – e.g. sadness, anger, relief, joy, guilt, indifference
we are able to give ourselves the time and space to grieve
significant others (or at least one person) allow us to express our feelings in their presence without becoming overwhelmed
the death is marked by a ceremony or ritual such that we are able to say goodbye to the person who has died, preferably with others who are also touched by the loss
over time, our grief becomes contained. It still remains a part of who we are but it does not dominate our thoughts or hold us back by leaking out into other areas of our life
as our grief becomes contained, we feel able to go back out into the world and live our lives.

In my opinion, we have two tasks to complete when someone close to us dies: to grieve the loss and to get on with life. Problems can arise when only one of these tasks is fulfilled. For example, we might remain stuck in our grief or we doggedly carry on with life, oblivious to the uncontained mass of sadness and anger we are dragging around after us.
Bereavement or grief counselling can help us explore, acknowledge and bear difficult and painful feelings. It can be particularly helpful when we are feeling that there is no-one we can safely turn to with our grief or perhaps we are worried about overwhelming (and possibly losing) someone we love or care about. Knowing that we can come and talk about how we feel in a safe and containing place can make a lasting difference to the quality of our lives and the lives of those around us.
If you live or work within reach of Brighton and Hove and my approach to counselling and psychotherapy interests you, please contact me via email or telephone 07585 910742 for more information and to arrange an initial consultation.